MBR membrane bioreactor technology
---
In recent years, the technology of sewage treatment and reclaimed water utilization using membrane technology has been widely concerned worldwide as a technology for protecting effective water resources and precious water environments.
■Scope of application
■Renovation, upgrading, bidding and expansion of existing sewage plants, surface water plants and waterworks.
■ Municipal sewage treatment and water reuse construction.
■ High-concentration organic wastewater treatment in pharmaceutical, chemical, coking, printing and dyeing, slaughtering, food and other industries.
■ Pretreatment of RO or NF.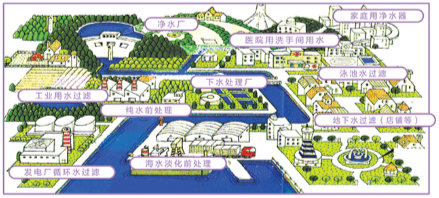 ■Process introduction
The MBR membrane wastewater treatment system is a new and efficient sewage treatment system that combines membrane separation technology with biological treatment technology. Compared with the traditional sewage treatment process, it has obvious advantages and has become the world's recognized advanced sewage treatment and water reuse technology.

■Product form
Curtain film

Flat membrane
■Technical advantages
■The process is short, the equipment required is small, the floor space is small, and the construction cost is low.
■The amount of excess sludge is small, and fully automatic control can be realized, saving labor and low operating costs.
■The unique aeration system avoids the problem of poor sludge settling and high maintenance and management efficiency.
■ The effluent water quality level is high, reaching the standard of reclaimed water, which helps to comply with the wastewater reuse obligation.
---
CONTACT US
Hebei ZHILE environmental technology co., LTD.